Is the Lawn and Landscape Industry Right for You? Workers from Other Industries Make a Change
Do you work in the hospitality or restaurant industry and are considering a change? Your current job most likely offers you the chance to work with countless people and use your extraordinary client support skills—yet they frequently result in working long days and late hours.
While working in the hospitality and restaurant industry is rewarding, most workers plan to take a different path at some point in their future due to the lack of career growth and uncertainties. Furthermore, the current pandemic limitations have created restrictions within the hospitality and restaurant industries, forcing current employees to seek other employment opportunities.
Being uncertain about future employment is unfortunately the reality for countless people today. If this situation sounds all too familiar and you are considering other career opportunities, then the landscaping industry may be an ideal career option for you. You like the quick paced nature of the hospitality and restaurant industry—and you love working with individuals—yet you need something progressively steady.
People from all industries have discovered a home in the lawn and landscaping industry. The individuals who transitioned their careers into the landscaping industry noticed that many of their abilities were pertinent and transferable.
You Are an "Extrovert" However You do Not Want to Work in an Office?
One important take away from restaurant and hospitality workers focuses on their choice of direction in the working world. A majority, if not all, stated that they decided to work in the restaurant and hospitality industry because they loved interacting with people and did not want to work in an office setting.
Grant Osvalds proves that it is never too late to make a career change.
At the point when he came to Kingstowne Lawn and Landscape, he had been tending to tables, which he revealed to us he appreciated in light of the fact that it was quick paced, he got the chance to work with individuals, and he didn't need to sit in an office throughout the day. He shared that he had consistently dreaded that work would be "dull" and that the idea of being "stuck to a desk area" was alarming.
Since Grant decided to make a career change for the better, he continues to work with people and his day to day work life is different and fascinating. In addition, Grant does not need to sit in an office throughout the day and gets to spend his workdays outdoors. Sounds like a dream come true, right?
I (Krisjan Berzins) can likewise share my positive career change from the restaurant industry into the landscaping industry. I learned a tremendous amount about customer service in the restaurant field which I now apply to working with our customers at Kingstowne Lawn and Landscape.
There are a ton of extraordinary chances to work with clients here and we truly esteem those that have relationship building abilities.
Work Life Balance is Key
Perhaps the greatest problem about the restaurant industry is the hours of operation. The inevitable hours include weekends and late nights. These hours may not be a bother from the start, but as time goes by, those hours become daunting. Sooner or later, it very well may be depleting.
Employees at Kingstowne Lawn and Landscape stated "Wow, I can't believe that I have the opportunity to have such stable hours!" Working in the lawn and landscape industry, you get holidays off and you get a break on nights and weekends. For the vast majority, that is an invited change.
Do You Want More For Yourself?
Another great aspect of working in the lawn and landscaping industry is stability. As much as Grant enjoyed his time working in the restaurant industry, he likewise said it never felt like a "drawn out choice," and that he knew it would be difficult to make a decent living if he decided to continue down that path.
"I knew that working in a restaurant was just a job, but what I needed to find was a career," Grant stated.
Kingstowne Lawn and Landscape provides the stability and security that everyone looks for in a profession. Many people do not understand the significant advantages that landscape companies offer to their employees. For example, Kingstowne Lawn and Landscape offers retirement plans, disaster protection, social insurance, and the capacity to earn paid time off.  In addition, employees make a living from salary or hourly compensation. Not by customer tips. 
Most importantly, employees who work for Kingstowne Lawn and Landscape get the opportunity for development. We have long haul profession openings in which individuals can ascend the vocation stepping stool. This doesn't need to be a simple activity. It tends to be a deep-rooted vocation opportunity.
Regardless of whether you're a server or an inn representative, you know that a great team can really make or break the overall work experience. At Kingstowne, we value a positive team culture and really care about making our company a place where people enjoy coming to work each day.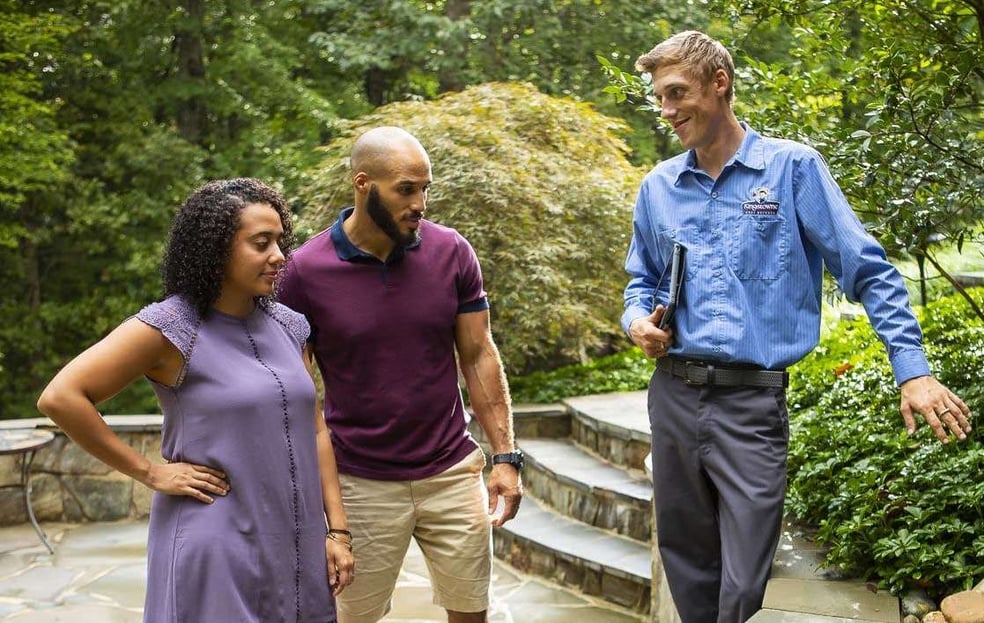 Explore More