Explore Careers in the Landscape Industry
Each year the landscape industry hires 300,000 men and women for careers that positively impact families, their communities, and the environment. Be one of them.
Day in the Life of a Lawn Care Professional
Interested in working in the landscape industry? Get a glimpse into the life of a lawn care professional!
Those who love the outdoors, have a passion for the environment, and yearn for fulfilling, difference-making vocations should use this site to explore the myriad of landscape jobs that can make a difference in their lives – and the lives of those around them.
Landscape Industry Jobs in the Great Outdoors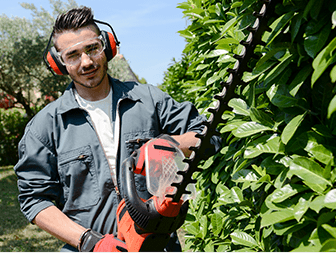 If you love the great outdoors, the landscape industry offers a wide variety of appealing career opportunities. Arborists, lawn care technicians, and irrigation specialists all perform landscaping jobs outdoors that create a visible impact on the environment. Project estimators and supervisors also work in the field in less hands-on roles, while other industry professionals work off-site.
Some positions in the landscape industry require specialized training or education, such as a degree in urban forestry or horticulture. Landscaping Industry Careers provides information on colleges & universities, with related degree programs for those interested in these types of job opportunities. Browse our educational resources to find the career path that's right fit you.
About Landscape Industry Careers
Landscape Industry Careers is powered by the National Association of Landscape Professionals, an organization representing nearly one million professionals who create and enhance the outdoor spaces where we live, work, and play. Find more information for landscape industry professionals and to learn about the association's commitment to helping lawn and landscaping companies thrive by visiting the official NALP website.

"I never dreamed that three years after graduation I would own my own landscaping business, one that is extremely profitable, earning over $1 million a year. I am proud that I am supporting my family and we just bought our first home!"
~ Peter Schultz, Pleasant View Landscaping