Join lawn and landscape professionals, educators, students, lawmakers, community groups and job-seekers across the nation for the industry's Landscape Career Day: Grow Your Future, an initiative aimed at inspiring the next generation of landscape professionals as well as those who are currently workforce-ready!
What is Landscape Career Day?

Landscape Career Day is a nationwide celebration of the rewarding careers within the landscape industry where lawn and landscape professionals invite their communities — including students, educators, community groups, advisors, lawmakers and officials — to participate in a collective effort to:
Enhance the public's awareness and perception of careers within the landscape industry

Educate and engage key audiences from communities across the country
Grow the lawn and landscape profession's workforce
Inspire and cultivate the next generation of landscape professionals
Whether it's a behind-the-scenes tour of a lawn and landscape business, a community service event at a park, career fair or interactive programming at a local school, Landscape Career Day will offer all who participate the opportunity to learn about exciting career paths, scholarships, and training and resources available to them – all while getting hands-on experience as they see, touch and feel the profession in action! 
When is Landscape Career Day?
While most Landscape Career Day events will take place in March and April, lawn and landscape companies can plan their events for dates that work for their audience and company goals.
If you're interested in participating in Landscape Career Day, keep an eye out for events in your area by visiting local lawn and landscape companies' websites and social media channels for updates. You can also contact the National Association of Landscape Professionals to inquire about events happening locally.
Why Host a Landscape Career Day?
There has never been a better time to consider becoming a landscape professional. The $82 billion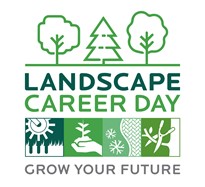 industry currently employs nearly one million professionals who are responsible for the health, well-being and beauty of the landscapes we enjoy. As the industry continues to grow, 300,000 job openings are made available each year to men and women looking to flourish in rewarding careers. But, the reality is that many people within our own communities may not be aware of the exciting benefits and opportunities that exist within the industry.
It's time to tell our story and shine a light on our profession to attract the best and the brightest to the field! By hosting a Landscape Career Day event you can showcase why and how careers in the lawn and landscape profession are incredibly rewarding.
Plan a Landscape Career Day
Interested in hosting a Landscape Career Day event, but aren't sure where to begin? No problem, we have you covered.
Check out these resources to make your Landscape Career Day planning a breeze.
Once you're ready to host a Landscape Career Day, spread the word with our various downloadable and customizable pieces of marketing collateral!
Explore More