Explore Landscaping Degree Opportunities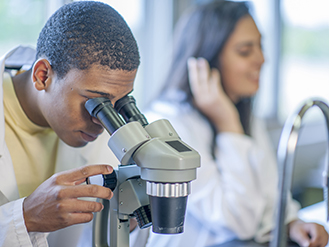 Ready to take your passion for the great outdoors to the next level? Curious about plants, landscape design or how to best support the environment with healthy lawns and landscapes? Interested in managing processes and people? If you are considering pursuing a landscaping degree to kickstart your professional career as a landscape professional, explore the outstanding learning opportunities that exist at colleges and universities throughout the country.
Whether you are looking at two-year or four-year options, there are dozens of landscaping degree programs offering dynamic instruction that graduate students highly sought-after by employers. Students enrolled in these landscaping degree programs are also encouraged to apply for over $100,000 in scholarship funds awarded annually by the NALP Foundation.   
Colleges

& Universities with Landscaping-related Degree Programs
Find universities and colleges by state that offer degree program related to the landscape industry. Jumpstart your landscaping career by pursuing a degree at a college near you.
Alabama Colleges
Auburn University
Auburn University, AL
Arkansas Colleges
University of Arkansas 
Fayetteville, AR
California Colleges
Cal Poly State University
San Luis Obispo, CA
Cal Poly State University - Pomona
Pomona, CA
Cuyamaca College
El Cajon, CA
Long Beach City College Horticulture
Long Beach, CA
MiraCosta College
Oceanside, CA
Shasta College
Redding, CA
Colorado Colleges
Colorado State University*
Fort Collins, CO
Pickens Technical College
Aurora, CO
Connecticut Colleges
Naugatuck Valley Community College*
Waterbury, CT
University of Connecticut 
Storrs, CT
Georgia Colleges
Chattahoochee Technical College - North Metro Campus
Acworth, GA
Gwinnett Technical College
Lawrenceville, GA
North Georgia Technical College
Clarkesville, GA
Turner Job Corps Education Training Resources
Albany, GA
University of Georgia
Athens, GA        
Idaho Colleges
Brigham Young University - Idaho*
Rexburg, ID
College of Western Idaho
Nampa, ID 
Illinois Colleges
College of DuPage*
Glen Ellyn, IL
Illinois Central College*
East Peoria, IL
Illinois State University
Normal, IL
Joliet Junior College*
Joliet, IL
Kishwaukee College
Malta, IL
Parkland College
Champaign, IL
Southwestern Illinois College
Belleville, IL
Southern Illinois University-Carbondale
Carbondale, IL
Triton College
River Grove, IL
University of Illinois
Urbana, IL
Indiana Colleges
Purdue University Horticulture Club
West Lafayette, IN
Iowa Colleges
Hawkeye Community College*
Waterloo, IA
Iowa State University*
Ames, IA
Kirkwood Community College*
Cedar Rapids, IA
Kansas Colleges
Kansas State University
Manhattan, KS
Kentucky Colleges
Eastern Kentucky University
Richmond, KY
Maryland Colleges
Community College of Baltimore County 
Baltimore, MD
University of Maryland
College Park, MD
Massachusetts Colleges
University of Massachusetts-Amherst
Amherst, MA
Michigan Colleges
Michigan State University
East Lansing, MI
Minnesota Colleges
Central Lakes College
Brainerd, MN
Rochester Community & Technical College
Rochester, MN
Mississippi Colleges
Hinds Community College*
Raymond, MS
Mississippi State University*
Mississippi State, MS
Missouri Colleges
Ozarks Technical Community College*
Springfield, MO
State Technical College of Missouri
Linn, MO
University of Missouri
Columbia, MO
Nebraska Colleges
Nebraska College of Technical Agriculture
Curtis, NE
New Hampshire Colleges
NHTI - Concord's Community College
Concord, NH
New Jersey Colleges
County College of Morris
Randolph, NJ
New York Colleges
Finger Lakes Community College
Canandaigua, NY
Niagara County Community College
Sanborn, NY
SUNY Cobleskill*
Cobleskill, NY
SUNY Delhi
Delhi, NY
North Carolina Colleges
Alamance Community College
Graham, NC
Blue Ridge Community College
Flat Rock, NC
FTCC Horticulture Department
Fayetteville, NC
North Carolina State University
Raleigh, NC
Sandhills Community College*
Pinehurst, NC
Wilkes Community College
Wilkesboro, NC
North Dakota Colleges
North Dakota State University 
Fargo, ND
Ohio Colleges
Auburn Career Center
Painesville, OH
Cincinnati State Technical & Community College*
Cincinnati, OH
Clark State Community College
Springfield, OH
Columbus State Community College*
Columbus, OH
Cuyahoga Community College*
Highland Hills, OH
Hocking Techinical College
Nelsonville, OH
Knox County Career Center
Mount Vernon, OH
Ohio Hi-Point Career Center
Bellefontaine, OH
Ohio State University - ATI*
Wooster, OH
Owens Community College
Perrysburg, OH
Penta Career Center
Perrysburg, OH
Portage Lakes Career Center
Uniontown, OH
Upper Valley Career Center
Piqua, OH
Washington County Career Center
Marietta, OH
Oklahoma Colleges
Oklahoma State University - Oklahoma City
Oklahoma City, OK
Oklahoma State University - Stillwater*
Stillwater, OK
Oregon Colleges
Clackamas Community College*
Oregon City, OR
Oregon State University
Corvallis, OR
Portland Community College
Portland, OR
Tongue Point Job Corps Center
Astoria, OR
Pennsylvania Colleges
Bidwell Training Center, Inc
Pittsburgh, PA
Longwood Gardens
Kennett Square, PA
Pennsylvania College of Technology
Williamsport, PA
Pennsylvania State University-University Park Campus
University Park, PA
Williamson College of the Trades
Media, PA
University of Rhode Island
Kingston, RI
South Dakota Colleges
Southeast Technical Institute
Sioux Falls, SD
Tennessee Colleges
Chattanooga State Community College*
Chattanooga, TN
Texas Colleges
Amarillo College 
Amarillo, TX
Houston Community College
Houston, TX
Palo Alto College*
San Antonio, TX
SFASU Horticulture Club
Nacogdoches, TX
Sam Houston State University
Huntsville, TX
Texas A&M Horticulture Club
College Station, TX
Utah Colleges
Brigham Young University*
Provo, UT
Utah State University
Logan, UT
Virginia Colleges
Community College Workforce Alliance
Richmond, VA
Virginia Tech
Blacksburg, VA
Washington Colleges
Spokane Community College*
Spokane, WA
West Virginia Colleges
West Virginia University
Morgantown, WV
Wisconsin Colleges
Chippewa Valley Technical College
Eau Claire, WI
Gateway Technical College
Kenosha, WI
Lakeshore Technical College
Cleveland, WI
Milwaukee Area Technical College*
Mequon, WI
Northeast Wisconsin Technical College
Green Bay, WI
University of Wisconsin - Platteville
Platteville, WI
Canada Colleges
The Niagara Parks Commission School of Horticulture*
Niagara Falls, ON
* - Schools and colleges with an asterisk are accredited by the National Association of Landscape Professionals. This recognition is extended to schools that meet or exceed industry standards for a model curriculum. Graduates of accredited programs are highly sought after by every facet of the landscape profession. Companies know any student from an accredited school has the training and skills to enter the workforce and make an immediate impact.
Explore More