If you are interested in working with technology on a daily basis, look no further than a career in the professional landscape industry! The misconception that the landscape industry is low tech is far from the truth. While some work by landscape professionals is done by hand, technology plays a critical role in landscape design, installation,  and management. Landscape professionals have teamed up with technology and utilize cutting-edge tools, equipment and computer programs in their work every day.
How do landscape professionals use technology?
Those who work in the industry use the latest landscape technology to streamline their projects, allowing them to be more environmentally efficient than ever before. For example, many landscape professionals now utilize robotic lawn mowers powered by smart technology to free up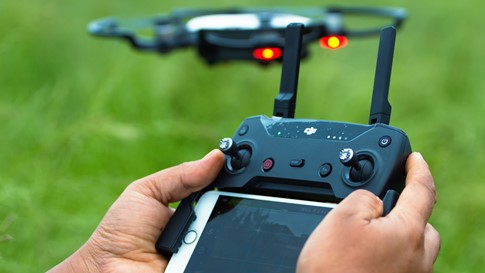 crews from routine mowing to spend more time on the details that make a difference. Professionals are also using programmable irrigation systems to conserve water, and advanced lighting and electrical systems when servicing residential and commercial landscapes. Professionals are trained on the skills and competencies required to ensure efficient technology solutions are integrated into landscape installation and management.
Pioneering technology and digital programs are also regularly used in many of the behind-the-scene functions of  a landscape project, whether on the job site or in the back office. Computer-aided programs are key for landscape designers and architects. Electronic imaging and GPS tracking support arborists in assessing the health of trees. Drones are used with increasing frequency to save time and ensure efficiencies. Project managers and estimators use sophisticated programs to coordinate key tasks, financial accountability, and ensure logistical operations run smoothly. Regardless of landscape career path, technology is key in helping  professionals do their jobs.
How can I pursue a technology-focused career in the landscape industry?
If you have a passion for technology, pursuing a career in the professional landscape industry may be the perfect fit. Explore the Landscape Management Apprenticeship Program, where students are trained in technology applications for landscape management, irrigation system administration,  low-voltage lighting systems (and more!) while earning a paycheck from day one.
Visit the job board to browse technology-focused landscaping career opportunities near you.
Interested in learning more about technology in the industry? Connect with us below!
Explore More