Guest Blog: I Told My Parents I Wanted to be a Landscaper 
Before I went to college, I told my parents I wanted to be a landscaper. This is what they said...three years later.
I had just walked across the stage at Oklahoma State University where I graduated with a degree in Landscape Management, an odd degree choice to most. But what most people don't know is how large the green industry really is. This was also the outlook my parents had. I still remember my sweet and sassy mother coming up to hug me after the graduation ceremony had ended. She squeezed my neck tightly and said, "I never thought you would get a job after graduation when you told your dad and me you were going into landscaping."
Earlier that semester I had received job offers from three of the top five companies I was looking at to start my career in 2017. And this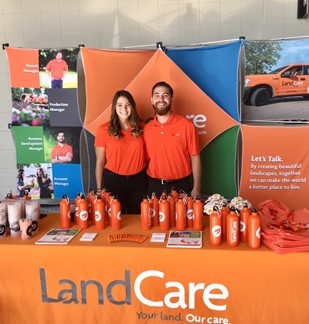 was just from the Landscape Management side of my interests. I didn't even touch the surface of landscape design, sports fields, or
greenhouse management. Half of my closest friends in college graduated with degrees from the business college. While still a great area of study, they were all struggling up until graduation day (some after!) to find jobs and cities to move to after college.  
I started my career in Kansas City with a great family-owned company for six months, which led me to my passion for commercial landscape maintenance. I am now about to celebrate my two-year anniversary with LandCare USA, LLC out of our Dallas location. No day is ever the same and that is what I love. Sometimes you are in meetings all day, sometimes you are attending luncheons and trade shows. But, at any time you can for sure find yourself out planting flowers or weeding beds with the team.  
My parents look at me now and see the successful career path I have set for myself with a degree that mystified most people. I am currently working in Account Management and Business Development. The next step in my career is to run my own branch and then one day be a Regional Vice President. I followed my passion and I found the best industry possible for me. For the outdoor enthusiast and plant-loving person, the options are endless in the green industry. 
Interested in finding your own career in the landscape industry? Learn more about potential career pathways that may interest you, including educational requirements and salary ranges.
Explore More