Krysta Martinez, General Manager at Simply Green Landscapes
Q: How did you get involved in the industry?
It was luck honestly. I moved to Charleston, SC for another position that ended up not working out. I was looking for a job to pass time and pay bills until I found another job in my field, which was marketing/business development. Little did I know that this (at the time) small landscaping company would be what I was looking for all along, and be the place I grow and develop.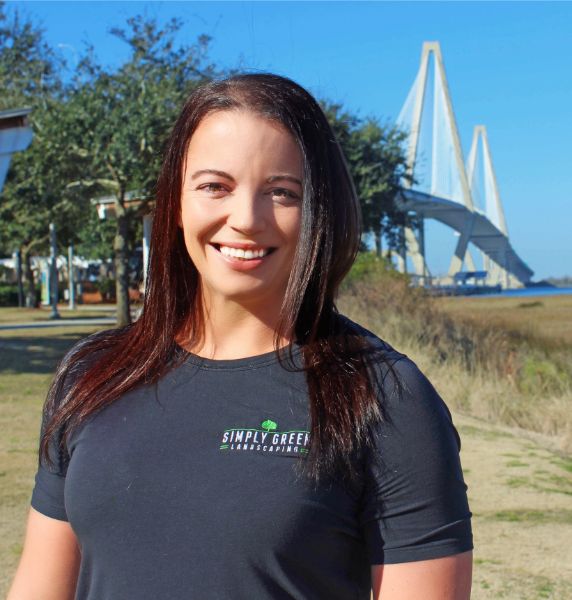 Q: What is your job and what does it entail?
I am the General Manager and there is not a thing my job does not entail. My duties include those an owner would have. 
Q: What does your typical day look like?
Anything but typical but that's what I love! Morning start with crew meetings and training, yard and truck inspections, solving any problems because there is always at least one. Once the crews are gone, I check on the office staff to ensure everything is running smoothly and run numbers from the day before, ensuring we're hitting our profit margins. After that, it's fair game to what I may be doing. Beginning of this year I implemented a new software for the company that would no longer require the use of paper and everything has moved digital. This is a continuous project as we are always evolving our processes and procedures. My biggest role is the development of our company, ensuring procedures are being followed, and margins are being met. I can say no two days are alike but again, that's what I love! 
Q: How has your career grown since you started?
I started with Simply Green Landscaping simply as an office assistant performing your standard tasks of calls, emails, billing, customer service. Our yearly profits were around $700,000, there were loose systems in place but it was more of a "make up as go you" situation. 6 years later, I have embraced this company as my own and have been named the General Manager. Now my sole focus is growing Simply Green Landscaping not only in profits, but as a well-oiled machine. We have gone from $700,000 in sales to now tracking $2.5 million this year! Knowing that I was a big influence on that really means a lot, with our growth, we've been able to provide growth to our employees as well. 
Q: What's the coolest part of your job? 
Proving opportunity. Hiring people and providing a way for them to provide for them family means everything to me. We also work with our employees on financial responsibility and how they can better themselves. I love hearing stories about their children and knowing the job they have, is allowing them to do things for their families. Most of our crewmen have been with us over four years and are proud to work at Simple Green Landscaping, we are a family and see every knew employee as such. 
Q: What are your long term career goals?
The obvious goal is to grow Simply Green Landscaping in sales...who doesn't want to do that?! A major goal is to develop an employee benefit program which would happen at 50 employees (not too far off). Another goal would be to open a satellite location about 45 minutes away, this would allow better logistics for servicing a growing area not too far from Charleston. My overall career goal is to be able to continue to provide opportunity for those currently working here and for our future employees. If our employees are happy, I am happy. 
Q: What strengths do you bring to your job that help you succeed in a male-dominated field?  
I am passionate and portray that on my employees. I am passionate about their success and ensuring I am doing everything in my power to ensure they are setup for success. I am passionate about growing the business; growth is opportunity. Daily, I went out in the field, met the crews on site for training and even helped them out, working with them side by side. Many people feel you have to act "tough" to work with guys, I feel the complete opposite. Lead with passion and emotion, not with fear. 
Q: What would you tell women who are thinking about a career in this industry?
Go for it! This industry has something for everyone, whatever your passion may be. 
Explore More