Sara Jensen, Arborist at SavATree
Q: How did you get involved in the industry?
My work in arboriculture began in 2002 as an intern for Casey Trees a non-profit based out of Washington DC. I performed a street tree inventory throughout the City and I never walked down the street the same way again. 
Q: What is your job and what does it entail?
Arborist. I manage approximately 600 clients throughout DC metro area for their tree, shrub and lawn care needs.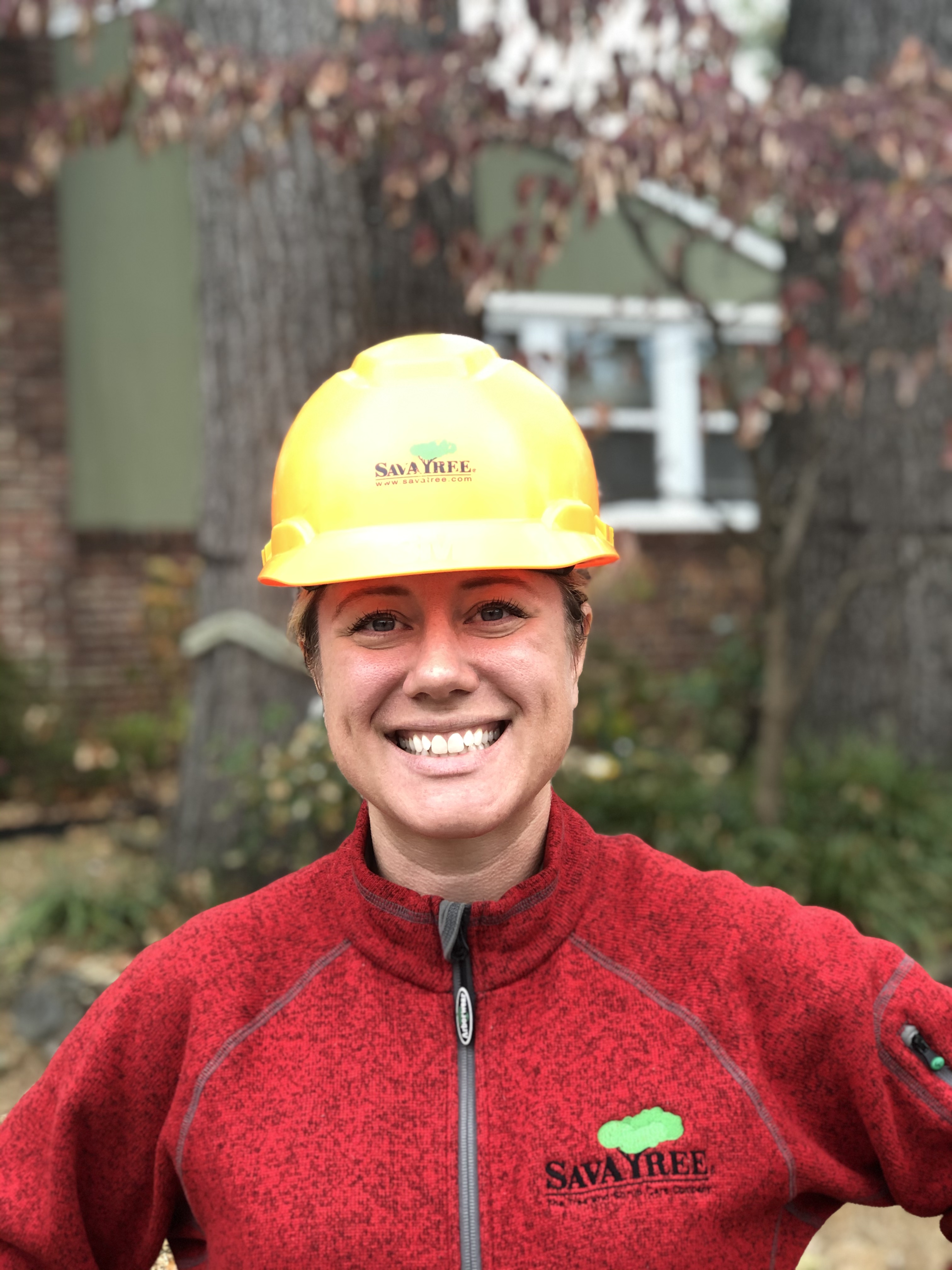 Q What does your typical day look like? How has your career grown since you started?
I work in a very fast paced work environment which requires a lot of multi-tasking and the ability to think quick on my feet. My day begins at 5 am then 7 am stretching at our office with the crews/specialist. Each morning I set up the first tree crew of the day. Client appointments begin at 9 am. Throughout the day I'm juggling often multiple tree crew set ups, a full book of client appointments and fielding questions from clients. 10-12 hours days are standard but I sincerely enjoy my job and the responsibilities that go with it. The days fly by.
Since I started with SavATree I've had many opportunities to participate in industry conferences and serve as a liaison to the landscape architecture community.  My degree is Landscape Architecture from University of Maryland. My career began in landscape architecture but I later obtained my International Society of Arboriculture license in 2010. I transitioned into a full time arboriculture career with SavATree in October 2012.
Q: What's the coolest part of your job?
I have an opportunity on a daily basis to provide expert recommendations to maintain our urban canopy and the delicate ecosystem on client's properties. Recently we've encountered a mass, rapid die-off of Oaks throughout the Mid-Atlantic. I initiated a dialogue between various public and private sectors to identify the plethora of issues contributing to the Oaks demise, and started a conversation to build consensus and ultimately develop sound recommendations for homeowners to utilize in order to bolster the health of our urban canopy. We have more questions than answers at this point but I'm fixated on contributing to the solution.
I have the chance to meet a diverse array of clients from all different walks of life. Each person teaches me something new, as well as their trees and landscape. I often hug my clients! They're like family to me. 
Q: What are your long term career goals?
I plan to impact future policy and legislation to protect and strengthen our tree canopy.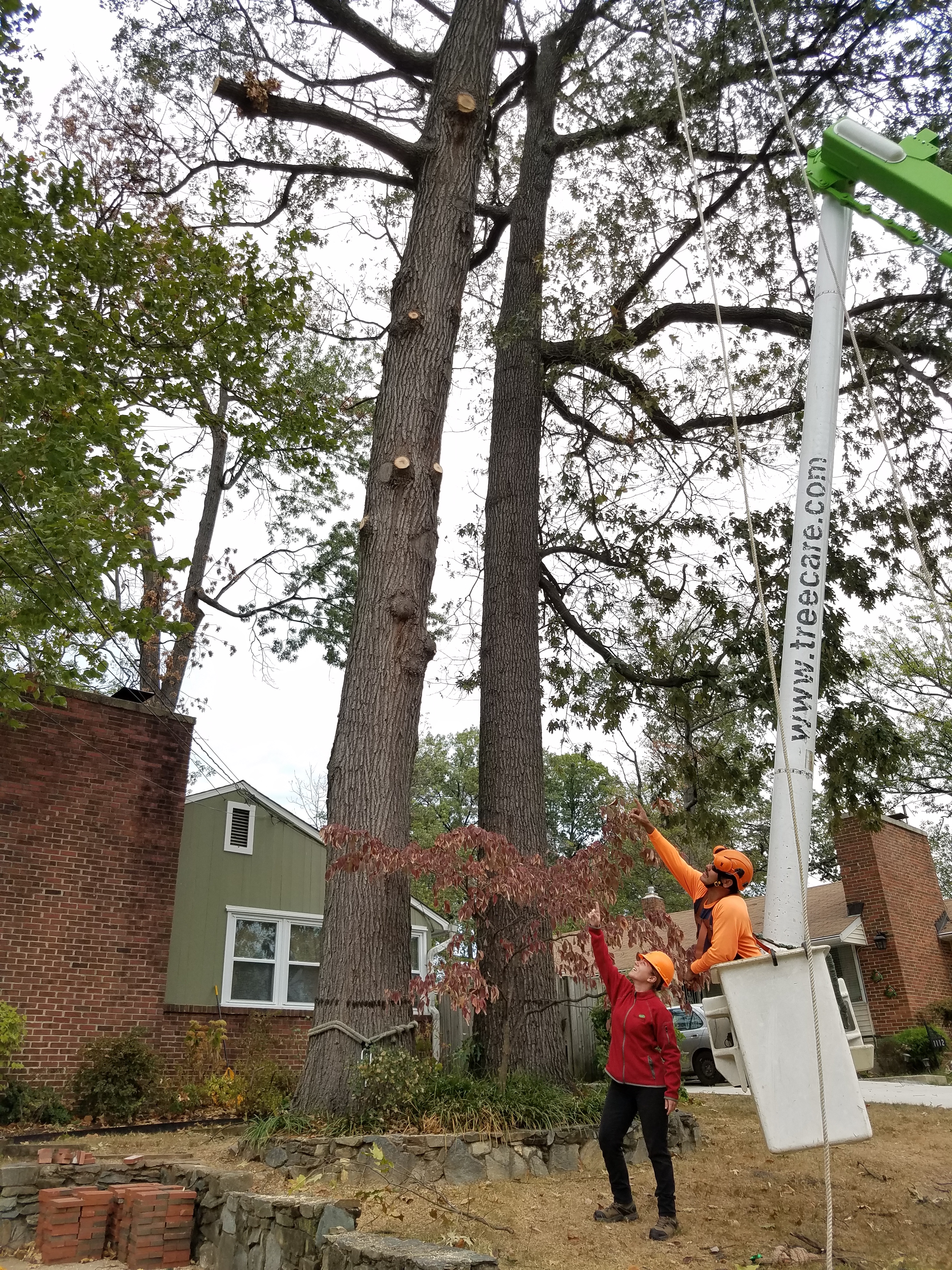 Q: What strengths do you bring to your job that help you succeed in a male-dominated field?
I'm very passionate about my responsibility as an Arborist. I'm extremely honest and provide all of my clients with confident assessments and recommendations. I genuinely love what I do and am very dedicated. I bring a strong level of empathy and am genuinely caring. I'm always invested in the client's best interest, and that of their trees.  Being a women in an extremely male-dominated industry, for me, has only been a strong asset because of the attributes I offer. Not to mention I stand out in the pack!
Q: What would you tell women who are thinking about a career in this industry?
I didn't start professionally in arboriculture, but it's where I landed. I've always told my students and aspiring youth to "pick something and go with it".  If you change you're mind later, that's ok! I knew early on I would be in the green industry but it's been an evolution: landscape architecture, community planning, arboriculture. There are more careers in our industry than people to fill them. 
If hard work doesn't intimidate you and you want an opportunity to make a positive impact on the urban environment, look no further. It's a dynamic industry and the work I do MATTERS. We need more women in this industry and I strive to be a role model to young women with the guts to GO FOR IT.
Explore More