Landscape Nursery Job Description 
Professionals who work in nurseries and greenhouses grow the millions of flowers, shrubs, and trees used by landscape companies, garden centers, homeowners and others each year. In addition to planting, nursery professionals prune, fertilize and control the weeds that may be detrimental to the health of the plants they are cultivating. Those drawn to jobs in the nursery and landscaping industry are generally interested in the biology and beauty of plants and want to make the world a more attractive place, one flower or shrub at a time. In addition to a love of plants, this profession also requires a passion for working with people as landscape nursery and greenhouse professionals are regularly asked for advice, guidance and problem-solving help.
Landscape Nursery/Greenhouse Professional Essentials
Typical Benefits*
Medical coverage
Dental
Paid vacation time 
Degrees in floriculture or ornamental plant production can give nursery/greenhouse professionals an edge
*Median salaries and benefits should be used as a guide. Actual compensation is influenced by location, type of business, employee's experience, etc. and benefits vary among employers.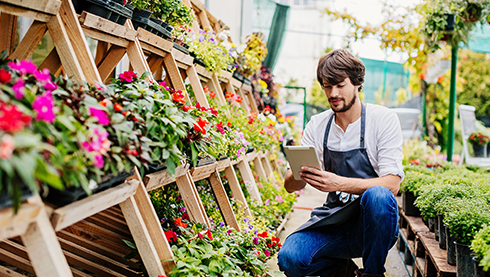 Kevin Finley, Landscape Nursery Professional
Throughout his 40-year career, Kevin has learned not only how to grow plants and understand the business side of nurseries, but also work with and lead a dedicated team of equally dedicated professionals.