Alex Julius, Employee Development and Safety Training Specialist at Davey Tree Expert Company
Q: How did you get involved in the industry?
Like so many people in our profession, trees found me. I was pursuing my BA in Architecture and holding a work study job at the campus rock climbing wall. Because the basic architecture studio class was full, I ended up in landscape architecture and my advisor suggested I also take horticulture to complement the studio class. The horticulture lab instructor identified that she had a climber in the group and worked with my rock-climbing boss and the campus lawyer to build a new work-study job to assist the campus arborist. Once they sorted out the details, they asked me if they gave me tree climbing lessons (from the local UMass arboriculture program professor), if I would be interested in the job. Of course I said yes, and the UMass professor who gave me my first lesson ended up being my grad school advisor and mentor. Once I learned that tree climbing could be a career path, I knew that's where I wanted to be.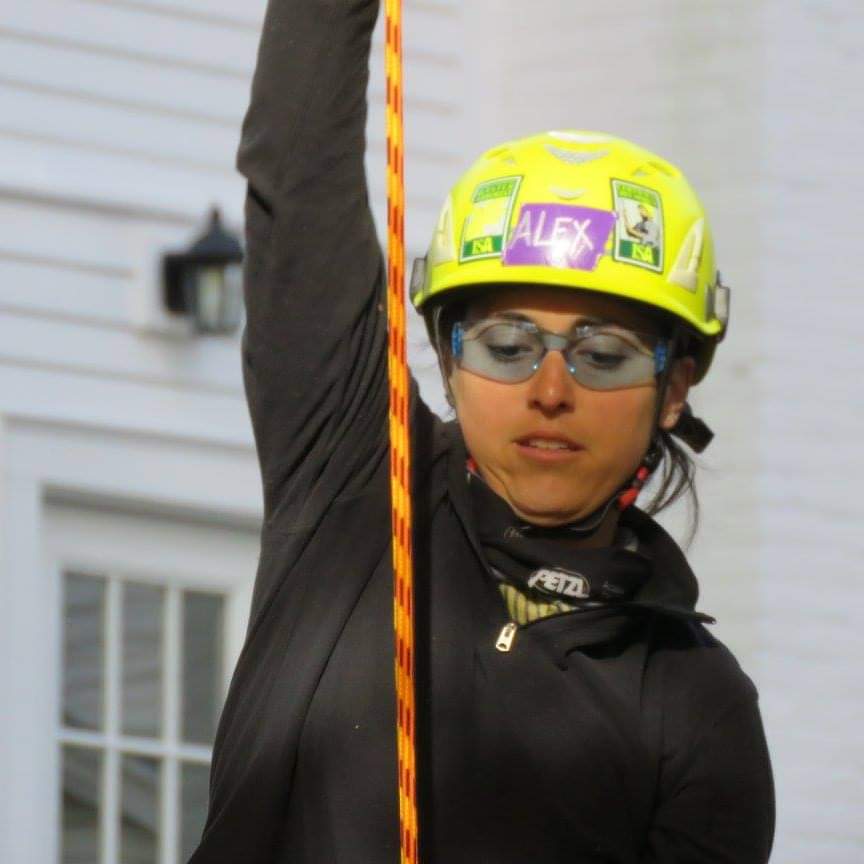 Q: What is your job and what does it entail?
I've recently taken a position at Davey Tree Expert Company as the Employee Development and Safety Training Specialist. Because tree care is not as mainstream as some other occupations, often people do not know how to progress in their skillsets. To help with this challenge, Davey offers numerous opportunities for personal and professional growth, in the form of on-the-job, online, and instructor-led trainings. My role is to combine my experience in arboriculture with adult education principles and make our educational content accessible and engaging. In addition to internal trainings, my role takes me outside of Davey, to conferences, trade shows, student events, and other industry and community events. These events give me the opportunity to share what Davey has to offer, as well as, educate others about the benefits of trees and proper tree care.
Q: What does your typical day look like? How has your career grown since you started?
I do not have a typical day in my role, as it changes constantly. My role takes me all across North America, where one day, I might find myself on a crew, observing on-the-job trainings, and the next, I'm giving a presentation at a local library. Every day is an opportunity to share with people why trees are good, and why it's important to follow industry safety standards and best practices. When I am not traveling, I am working on educational content to be distributed to our arborists.
My career has shifted substantially from working in the field and studying trees and tree care, to spending more time understanding arborists and what motivates them to learn. Much of adult education and instructional design is geared toward certain career paths, such as doctors, nurses, accountants, and other indoor environments. There is not a lot of research on how to take adult learning principles and apply them to arborists. This is where I come in and work with arborists to find out what types of learning are of interest, and how can we make it accessible to them in the field.
Q: What's the coolest part of your job?
The coolest part of my job is getting people excited to learn more about trees, both arborists and non-arborists alike. I enjoy the challenge of working with people, sharing fun facts or interesting skills and seeing that light bulb moment where they realize what they have just learned. Similarly, for those of us on the training side, it's fun to teach each other our training methods. Give a group of arborists a single rope and we could entertain ourselves for hours, showing each other different ways to tie the same knot. That kind of enthusiasm for learning and sharing knowledge can be hard to come by in a profession.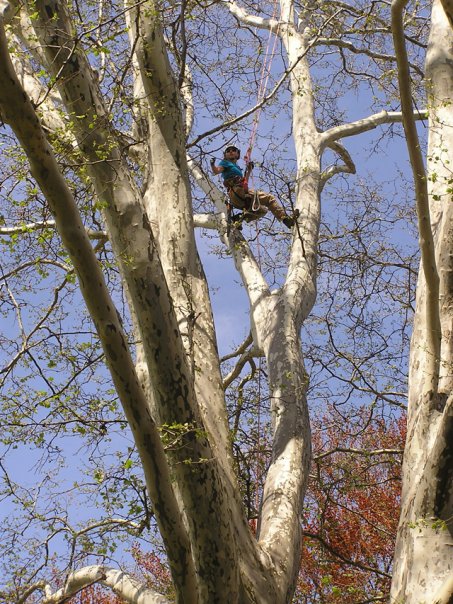 Q: What are your long-term career goals?
My long-term career goal isn't a tangible position, rather a state of being. There are two main areas I'd like to make an impact: safety and inclusivity. I'd like to retire knowing I've made a lasting impact on both reducing injuries and fatalities in our industry, as well as making tree care an inclusive environment.
Q: What strengths do you bring to your job that help you succeed in a male-dominated field?
The strength that helps me the most is my competitive drive. I've always been competitive, and it has been what motivates me to keep learning more and improving myself. I've competed in tree climbing for ten years and even though I don't usually win, showing up and opening myself up for learning has been most valuable for my progress. In the competition environment, there is real camaraderie that happens, where fellow competitors scream and cheer, offering tips both inside and outside the arena. In the workplace, this competitiveness translates to constantly seeking ways to make improvements and increase efficiencies.
Q: What would you tell women who are thinking about a career in this industry?
My advice to women is that you are stronger than you think you are. When we talk about strength, often it generates an image of bench pressing or pull-ups, but there is a whole lot more to strength than just biceps. Not only are women strong physically (though we are often taught to climb trees in a way that leverages men's strengths, not women's) but women are often good multi-taskers, problem solvers, and analytical thinkers. Why muscle through a problem if it can be solved by a few extra seconds of brain storming? Women bring their own strengths to the workforce that we need.
Explore More