Brittany Bell, Horticultural Specialist at NC State University
Q: How did you get involved in the industry?
I wanted a career that would blend my love for design and environmental science. My FFA advisor introduced me to horticulture, and I knew that that was what I wanted to do. I came to North Carolina State University for my bachelor's degree where I developed an interest in public gardening. I worked at Sarah P. Duke Gardens as a student intern and realized that I was the type of career I wanted to pursue.
Q: What is your job and what does it entail?
I am a Horticultural Specialist for the Grounds department, which is housed under the Facilities Division, at North Carolina State University. I provide hands-on, technical training of horticultural techniques for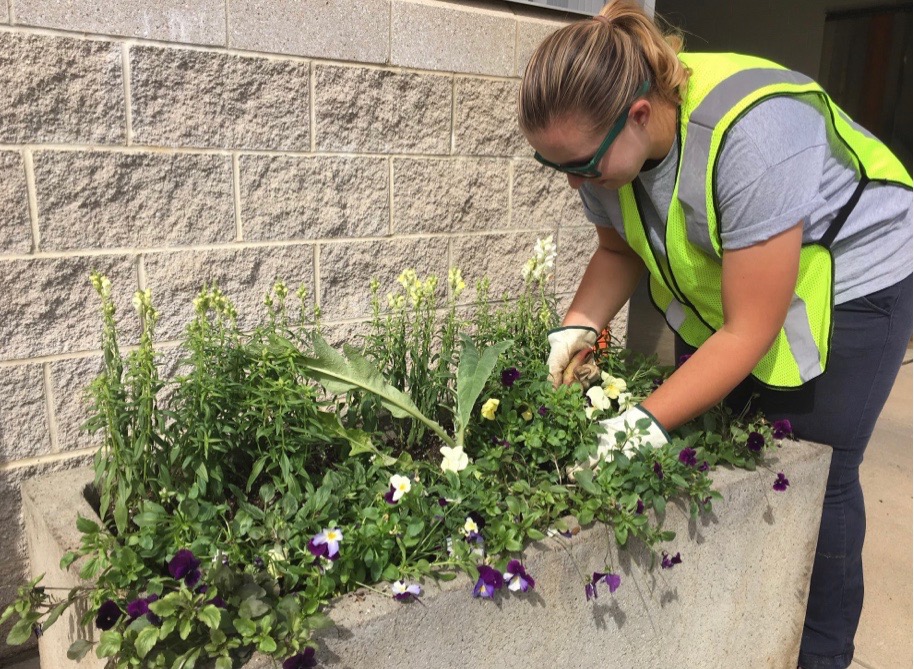 grounds staff teams to ensure sound horticultural practices are used.  I serve as a plant care expert for campus where I create and monitor annual flower displays, provide advice on integrated pest management practices, and oversee pruning and small landscape design projects.
Q: What does your typical day look like?
I don't necessarily have a "typical" day, and that's one of the things I love about my job. I get to do a variety of tasks from designing annual flower displays to scouting for insects. My main focus is to assess the campus's needs and determine the best way for myself to serve them.
Q: How has your career grown since you started?
I've gotten to take on additional responsibility and utilize a variety of my skills for my position. My team manages the campus-wide flower program, where I get to create designs that will enhance the landscape and showcase the team's talents.  I've always had a passion for floral design, so I've started making floral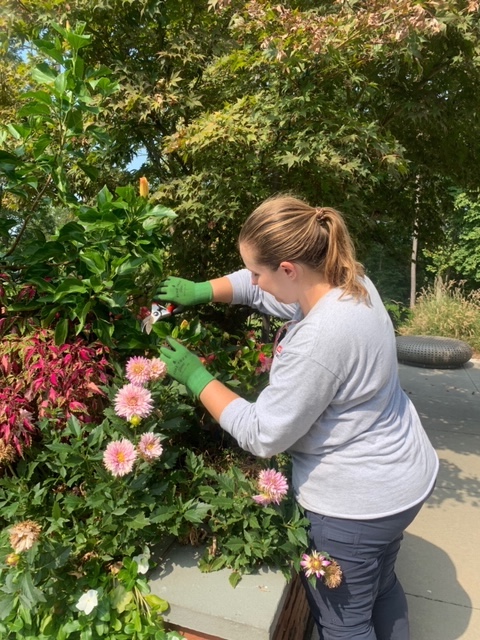 arrangements for campus events using flowers and foliage from campus. It's a great way to increase our community's interest in our grounds. I also serve on the Staff Senate at my university where I advocate for sustainability, and I represent the Facilities community. 
Q: What's the coolest part of your job?
The coolest part of my job is getting to make the campus community's environment the best it can be. I feel like I have the opportunity to enhance student, faculty and visitor experiences by giving them a place to admire. It's also awesome to work at my alma mater; it makes the work I do even more meaningful.
Q: What are your long-term career goals?
I want to continue making an impact in the field of public horticulture. I'm passionate about creating spaces for students and faculty to enjoy, and I hope that as I advance, I get to make an even greater impact.  One day I'd like to be a manager or director for a grounds department, botanical garden or public park. I truly believe that the environment we, as landscape professionals, create has a substantial positive impact for its users.
Q: What strengths do you bring to your job that help you succeed in a male-dominated field? 
Organization and time management are my keys to success. Having skills and knowledge is great, but the best way to advance in your career is by utilizing your time wisely.
Q: What would you tell women who are thinking about a career in this industry?
Find out what sparks your interest and pursue it relentlessly. It's exciting to see more and more women choosing this field. There are so many career opportunities available, and those with knowledge and passion will succeed. Don't let setbacks keep you from doing what you love.
Explore More