Dani Collinson, Pest Division Manager at Blades of Green Lawn Care
Q: How did you get involved in the industry?
So like most others in our industry you end up in this industry in one of two ways. One you are born into it or two you fell into it. I fall into the second category. I can honestly say I never envisioned myself in the lawn care and pest control industry, yet here I am and I'm loving every second of it. My journey began because my husband fixes the equipment for my company and the owner asked if my he knew anyone that could come help out for a few weeks during the busy season. My husband (being the generous man he is!) said, "Sure I do, my wife is at home on maternity leave so she can come help out she's not doing much." As we know that's not true, but I went into help out anyways and fell in love and never left.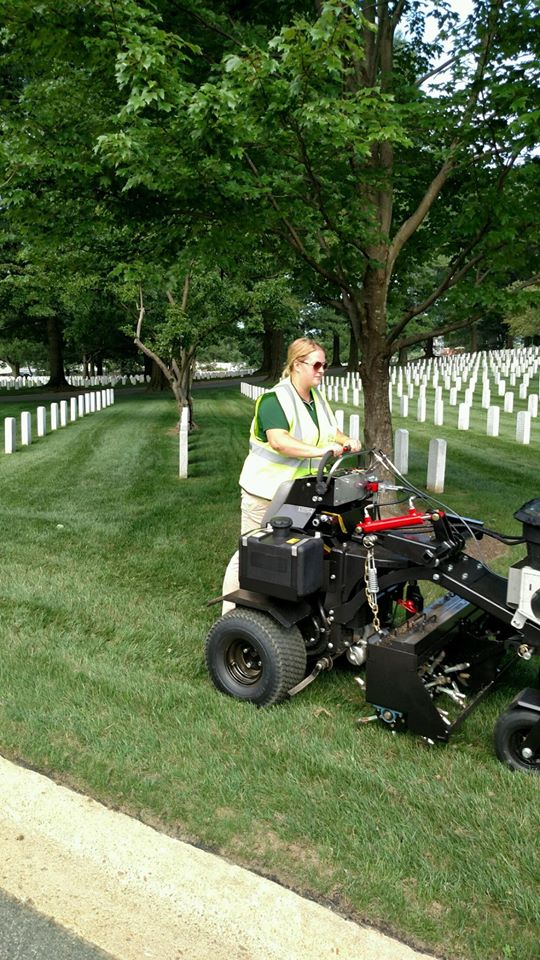 Q: What is your job and what does it entail?
My current position is the Pest Division and Plant Health Care manager.  The main role of my job is to provide my team with the tools and resources to be the best technicians they can be and to promote and encourage their growth and development.
Q: What does your typical day look like? How has your career grown since you started?
I get to the office in the morning and get the team out on the road, deal with any issues and then spend the rest of my day researching new products, building training material and protocols, answering questions that may arise and handling customer related calls. I also spend a few days a week out in the field with the technicians performing quality assurance checks and going over their growth development and goal setting.
 When I originally started working for the company I was a part-time helper and then joined the team full time a few weeks later. I have been with the company 6 years now and have worked in almost every department from customer service, routing, office management and now the Pest and Plant Health Care Manager.  These all are seemingly great growths in a short period of time; although, I would say my career growth goes much deeper then the variety of positions I have been promoted to over the years. My true growth has been in myself development of becoming the leader I am today. This job has helped me evolve my personal EQ ability, becoming more empathetic by using tools like the GROW model to help with problem solving as well as becoming a better public speaker.
Q: What's the coolest part of your job?
This is probably the easiest question of them all! Working in this industry allows me to grow myself, the individuals on my team and the industry as a whole by constantly questioning the way things have always been done. This industry is extremely innovative and always looking for new ideas and new ways to improve and better the community and environment. Blades of Green is no different. We want to be a part of the leading group that brings our industry to the next level and changes the way people think about our industry. Some of my current projects involve creating ways to train using virtual reality and podcasts! Not to mention the satisfaction that you get as you grow and build a technician from having no industry experience to being certified in multiple categories and really embracing the job and becoming a leader within the organization.
Q: What are you long term career goals?
Long term, I would like to see myself as a Director of Training Operations or something of that nature. One of the beautiful things about the organization and the industry is its always growing - there are new positions being created all of the time. So, although that position doesn't exist at my company yet, as we continue to grow and develop I hope that it will at some point. 
Q: What strengths do you bring to your job that help you succeed in a male-dominated industry?
In my opinion being in a male-dominated industry isn't much different than being in any other industry. I am a goal oriented problem solver that thrives on innovative ideas, working hard and doing what is necessary to accomplish the goal or challenge at hand. Part of being that type of personality means that I don't let my sex or the sex of others around me get in the way of that and I have earned the respect of the males around me because of that.
Q: What would you tell women who are thinking about a career in this industry? 
Stop thinking about it and do it! This industry is completely indescribable. People say it all the time but you don't really believe it until you are a part of it. It is a remarkable industry. I can honestly say on behalf of myself and Blades of Green, we would not be where we are today without the help of others in the industry. There are truly no trade secrets. You take a little bit of everything you learn along the way and mold it into your own style and personality and make it work for you and your organization.
Explore More